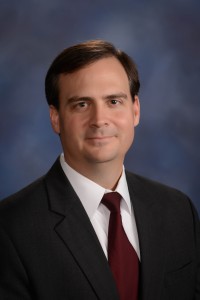 Jeff grew up in Bryan, Texas, and was valedictorian of the Bryan High School Class of 1990.  Jeff attended Harvard University, and returned to the Brazos Valley where he graduated summa cum laude from Texas A&M University with a bachelor's degree in accounting.  After graduating, Jeff attended the University of Texas Law School, where he served on the Law Review and was selected to be in the Chancellor's Honor Society.  He graduated in 1998 with high honors.  After law school, Jeff practiced law with Locke, Liddell & Sapp in Houston.
Jeff and his wife, Deanna, moved back to College Station in 2005, and Jeff has been with The Ellison Firm since November 2005.  His practice areas include estate planning and probate, real estate, entity formation, trust and fiduciary matters, asset protection planning, and general business transactions.  Jeff is Board Certified in Estate Planning and Probate Law by the Texas Board of Legal Specialization.
Jeff and Deanna have two sons, Will and Reid.  Jeff enjoys sports with his children, hunting, camping, gardening, and watching Texas A&M athletics.
Education
Bryan High School, valedictorian, 1990
Harvard University
Texas A&M University, B.B.A. Accounting, summa cum laude, 1994
University of Texas Law School, J.D., high honors, 1998
Professional
Advisory Committee for Estate Planning and Probate Specialization, State Bar of Texas Board of Legal Specialization (2007-2013)
Admitted to the State Bar of Texas, 1998
Associate attorney, Locke Liddell & Sapp, 1998-2005
Accountant, Arthur Andersen & Co., 1994
Member, Real Estate, Probate and Trust Law Section of the State Bar of Texas
Texas Aggie Bar Association
Brazos County Bar Association
Civic
College Station ISD School Board, 2010-2019

President, Board of Trustees, 2018-2019
Vice President, Board of Trustees, 2015-2017
Secretary, Board of Trustees, 2012-2015

Member, Community Foundation of the Brazos Valley, 2006-2013

Board of Trustees Chairman, 2010-2011

Board of Trustees, CSISD Education Foundation, 2007-2013
Member, Christ United Methodist Church, 2005-Present